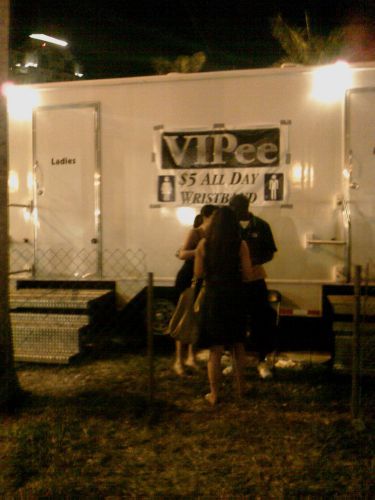 I am sure there will be pictures up later, but our weekend was jam packed. 
Saturday and Sunday we went to Sunfest, and on Sunday we even got in several
hours of sailing on the ocean blue.
First, a quick run-down of Sunfest on Saturday.  We ended up seeing the
following bands:  The Tossers, The Mighty Mighty Bosstones, and The Black
Crowes.  A full review will follow the "Read More" link.
Sunday was a boat day for the morning/afternoon.  We took the boat out on the ocean and generally had an all around fantastic time.  We're getting to be a well polished machine.  No major hiccups on the trip…just smooth sailing.
After sailing, we hit up Sunfest again and watched Matisyahu and the fireworks show.  Both were pleasantly enteraining.
Now, for the bands…(read more)
The Tossers:  This was a crazy Irish band complete with multiple guitars, a violin, and a "tenor whistle".  They were smoking and drinking and just living up to their name and stereotype perfectly.  It was quite a show…the lead singer threw up in between songs a couple of times.  He would apologize, take a drink and a smoke (while singing) and continue.  Overall, it was very entertaining and some of the stories behind the songs were worth it alone.  For example, one song was about the richest prostitute in Dublin who drank all of her money away when she retired.  To cap it all off, when they were done and everyone was leaving to do whatever, we just happened to stand around watching…and the singer actually cleaned up the floor on the stage where he had let it go….with band towels, a mop and everything.  I was somewhat impressed.
The Mighty Mighty Bosstones:  I will admit right away that I was not looking forward to this performance.  I only knew of one song they sung "Never had to knock on wood" or whatever.  They were going on at 9pm and The Black Crowes were going on a different stage at 9:30pm.  So, the band came on…full out with two sax players, a trombone, and a crazy dancing guy.  All were wearing suits.  They had quite a crowd and started out really well.  Very upbeat, the singer was appreciative of the crowd and Erin and I were enjoying it.  In the middle of their set (about 9:45) we headed over to see The Black Crowes.  We got there and it sounded terrible.  The band seemed to be in their own la la land and really just sounded like crap.  We sat through maybe two songs and decided to head back over to the Bosstones.  We got back and it was still the same high energy entertaining show.  They kept playing more songs I had never heard and they were pretty good.  They did a one and half song encore and we headed back to The Black Crowes.
The Black Crowes:  So you have read above that we didn't stick around the first time, but I decided I want to hear them play something I'd heard of since I know quite a few of their songs.  This was probably 45 minutes to an hour into their performance and every song sounded exactly the same.  Slow…sad…whiny a bit…and nothing I'd ever heard.  It was still like the band was spaced out doing whatever kind of 10 minute song they wanted to…ALMOST like a jam band.  But not, because jam bands actually jam out and keep it entertaining.  These guys were just really no good.  A big dissapointment… because I liked them.  We stuck around for another 45 minutes until they finally played "remedy" and it wasn't good either…so we left.
Matisyahu:  Very interesting…we did not know what to expect really.  He seems to be influenced by Phish and some other jam band type artists, so I didn't know if it was going to be that style or what.  And we were a little leary after The Black Crowes the night before….however, it turned out to be a pleasant surprise.  The band came out and was obviously a talented group….with a bass, guitar, drums and keyboard player.  Matisyahu himself also was talented, he sounded good live.  The show had quite a bit of energy and generally, Matisyahu was in and out of the lead role….there was a bit of a jam band vibe at times and he would just stand off to the side and just watch the band play.  Overall, it was a very good performance.
So…recommendations (from me at least):  I would pay to see The Mighty Mighty Bosstones and Matisyahu again.  I would go watch and possibly pay (depending on venue and price) The Tossers again.  And realistically, it should be no surprise that I would mostly likely not care about seeing The Black Crowes live again.